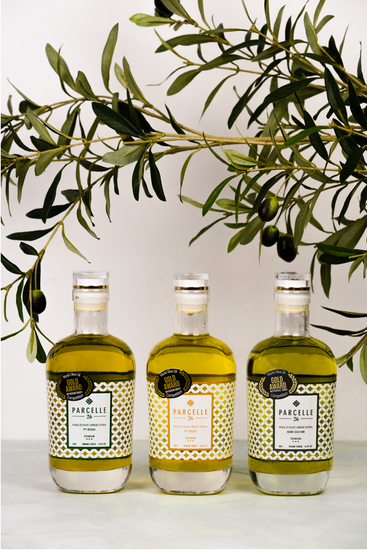 The Perfect Range
Our 3 oils
Regular price

Sale price

64,00€

Unit price

42,67€

per

l
Find in the perfect range our three iconic 50cl bottles.

The Cuvée 1ère Harvest is an extra virgin olive oil of character. It has a singular taste profile, an oil with green fruitiness and ripe notes. It has a variety of aromas ranging from freshly cut grass to apple, green almond, hazelnut andwalnut. This diversity of aromatic notes, both fruity and herbaceous, blends harmoniously and gives a unique character to our extra virgin olive oil.

The cuvée 2nd Harvest is a soft and delicate extra virgin olive oil. It has a ripe fruitiness and green notes, and a rich palette of flavours. It has a variety of fruit aromas thanks to the presence of ripe apple and banana notes as well ashazelnut and walnut notes. All of these aromas blend together elegantly and give a lo...
Read more
Share
Paiement sécurisé
Produit de qualité

Satisfaction garantie
Tout le savoir-faire de la Méditerranée dans votre assiette
Notre domaine est certifié
Global G.A.P(Good Agricultural Practices)
Parcelle 26, vivez d'authentiques moments de partage.
Vous aimez faire déguster un bon vin ? Faîtes découvrir la puissance des arômes d'une bonne huile d'olive! Offrir une grande huile d'olive comme on offre un bon vin : voilà une idée cadeau gourmande et originale.
Pour un dîner chez des amis, un jour de fête, un anniversaire ou pour le plaisir d'offrir tout simplement, Parcelle 26 est l'idée-surprise facile et originale qui s'offre sans distinction de genre à tous les gourmets, en toute occasion et qui changera du bouquet de fleurs ou de la boite de chocolats !